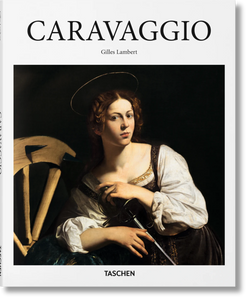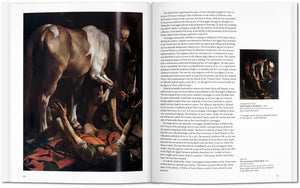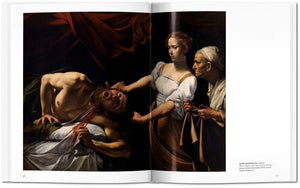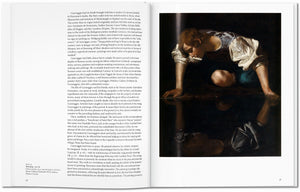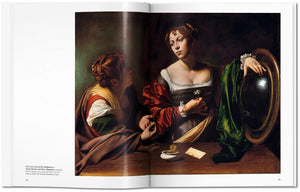 Caravaggio (Basic Art Series)
Gilles Lambert and Gilles Néret
A Revolution in Painting
The Baroque genius who electrified art history
Michelangelo Merisi da Caravaggio (1571–1610) was always a name to be reckoned with. Notorious bad boy of the Italian Baroque, the artist was at once celebrated and controversial, violent in temper, precise in technique, a creative master, and a man on the run.
Though famed for his dramatic use of color, light, and shadow, it was above all Caravaggio's boundary-breaking naturalism which scorched his name into the annals of art history. From the dirtied soles of feet to the sexualized languor of bare flesh, the artist allowed even sacred and biblical scenes to unfold with a startling, often visceral humanity. This vivid pictorial world was accompanied by an equally intense personal biography, scored by gambling, debts, drunken brawls, and even a murder charge.
This book brings together more than 50 of Caravaggio's most famous and revolutionary works to explore how and why this artist is now considered the most important painter of the early Baroque period and one of the defining influences of art history, without whom Ribera, Vermeer, Rembrandt, Delacroix, Courbet, and Manet could never have painted the way they did.
Gilles Lambert (1928–2011) was born in Paris, but spent his whole life between the capitals Rome and Paris. He translated a number of works on the Seicento from the Italian. With André Labarthe, he founded the journal Constellation in the 1950s, and subsequently worked for Le Figaro Littéraire and Paris Match. He wrote monographs on Auguste Mariette and Caravaggio.

Gilles Néret (1933–2005) was an art historian, journalist, writer, and museum correspondent. He organized several art retrospectives in Japan and founded the SEIBU Museum and the Wildenstein Gallery in Tokyo. He directed art reviews such as L'Œil and Connaissance des Arts and received the Élie Faure Prize in 1981 for his publications. His TASCHEN titles include Salvador Dalí: The Paintings, Matisse, and Erotica Universalis.
Published Date
31 / 03 / 2020