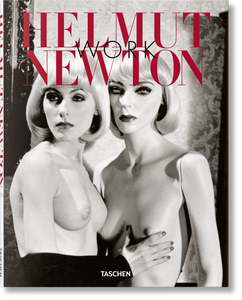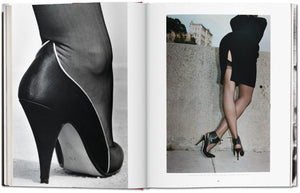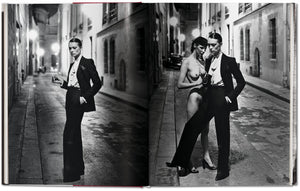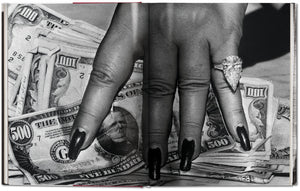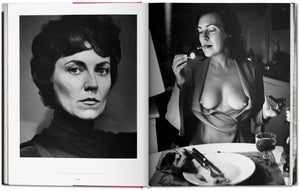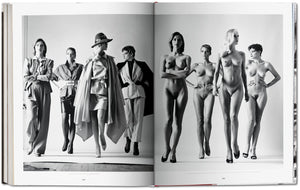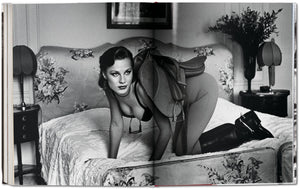 Helmut Newton. Work
Helmut Newton, Françoise Marquet & Manfred Heiting
Fashion, editorial, and personal photographs meet in this extensive Helmut Newton portfolio, including some of his most striking shots from the '60s through to his golden heyday. From shadowy streets to hotel boudoir, it's a showcase of Newton's suggestive storytelling and unfailing eye for erotic impact.
Helmut Newton (1920–2004) was one of the most influential photographers of all time. He first achieved international fame in the 1970s while working principally for French Vogue, where he became celebrated for his controversial scenarios. Most striking was his ability to make a throughly planned photograph seem fresh and dynamic. His many titles and awards included Commandeur de l'Ordre des Arts et des Lettres.
Françoise Marquet established a photographic department at the Musée d'Art Moderne de la Ville de Paris in 1981, acquiring the works and organizing retrospectives of Duane Michals, Herbert List, Jean-Philippe Charbonnier, Helmut Newton, Jeanloup Sieff, Jan Saudek, and Manuel Álvarez Bravo. In 1997 she was appointed to the Petit Palais, Musée des Beaux-Arts de la Ville de Paris.
The editor
Manfred Heiting is an internationally acknowledged designer, curator, and expert on and collector of photographs and photobooks; he lives in Malibu and Brussels. He is a founding member of the J. Paul Getty Museum Council and since 2016 UCLA Distinguished Lecturer in the Humanities. He is editor and designer of Deutschland im Fotobuch, The Soviet Photobook, and The Japanese Photobook and co-editor and designer of Autopsie: Deutschsprachige Fotobücher 1918–1945.
Published Date
15 / 10 / 2021